Sunday was a much better day
I'd spent the previous couple of days feeling gutted that I may have to shelve the business, but after much butt kicking by my wonderful glassy friends, I thought No ! I won't go down !!!
So scary decision made … even if I have to be the breadwinner, I am going to give it a shot !
Decision made, I started to make some test beads for a new Etsy service (suggested by a couple of fellow artists), offering portraits of people on beads
The one I tried just as a boredom bead has really started something !
I already have some commissions to be working on… and here .. let me share with you a couple of my test beads from sunday's session at the torch ..
If you've already seen them, then I shall apologise now for repeating myself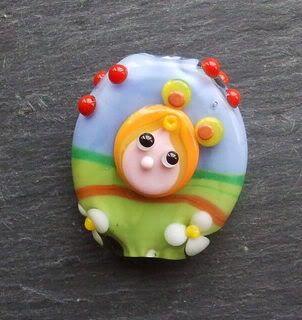 For the first time in AGES, I am starting to feel positive about glass working again .. I can't tell you how good it feels
So at least I went to bed a lot happier on Sunday night